Intermod- Smart Building

Intelligent, flexible, simple.

Thanks to its flexibility and ease of operation, Intermod is one of the most used bus systems today.
The components of Intermod are:
The Bus

Central unit

The peripheral modules
The Bus Intermod is composed of 4 wires:
2 denominated + and – that carry the power supply of 24 Vdc to the modules of the system, and two, designated L1 and L2 for the transmission of data.
The BUS Intermod is based on the quality standards of the BUS industry and has been deployed to ensure maximum operational reliability in applications of building automation.
It allows to reach great distances (4km), leaving, in most cases, the freedom to the installer to use the cable and type of connections he prefers. It is not necessary to use a shielded cable but a simple 4×1.5mm² or the classic telephone cable.
The installation is fast and simple, because there is no need to consider the distance between two devices and there are no network hierarchies.
The module UC4 or IB.IF is the only necessary module in every system, capable of managing 254 peripheral modules with a total of 4000 inputs and 4000 outputs.
The unit UC4 has an internal logic, while the module IB.IF has to be connected to an intelligent unit, for example UC6 or PLC.
The peripheral modules are installed in the field, as close as possible to the area to manage. They can be installed in electrical panels, junction boxes, ceilings etc.
Intermod consists of six module-families:
iBox module

Vario module

Brick module

Base module

TopHotel module

Front module
Simplicity
The Intermod system optimizes and dramatically reduces the cost of material and labor.
Simplified wiring, thanksto the small numberofcables used.

Reduced time and costs of installation and maintenance.
Future modifications of the connections between the command and the users are no longer necessary because they are programmable. The changes are made in a few seconds without the use of a screwdriver.
Various intergrated functions, such as fire detection, lighting and access control are simple and immediate as the central unit of Intermod allows communication with installed systems from other manufacturers.
Flexibility
To expand an installation it is enough to lay BUS cables only where they are needed. Already existing lines do not need to be changed.
Reliability
Intermod helps you to save wiring costs for small installations.
The system already becomes convenient if you want to manage a few alarm buttons in a small hotel, or for the remote control of a forty utilities placed a few hundered meters away.
Sustainability
Intermod helps you to save wiring costs for small installations.
The system already becomes convenient if you want to manage a few alarm buttons in a small hotel, or for the remote control of a forty utilities placed a few hundered meters away.
Robustness
If you invert the wires of the bus, you won´t have any detrimental effect. Thanks to a careful design, the Bus is not sensitive to disturbances on the supply line nor to electromagnetic interferences.
The use of Intermod
Intermod is an open system, easily adaptable and can be integrated in any type of electrical installation. It provides modules that can be interfaces with accessories available on the market, such as probes, thermostats, badge readers and much more via the Modbus communication protocol.
For example it is possible to interface temperature probes through the use of a standard 0-10 Vdc input, or via PT100. This allows the customer to choose the desired line of accessories according to their economic needs and their aesthetic tastes.
The supervision
With Intermod and SCADA (Supervisory control and data acquisition) Movicon from Progea it is possible to create the supervision of any electrical system. INTEREL Trading allows customers to realize the supervision of the system even in an autonomous and independent, thanks to the simple object-oriented programming software or with the standard IEC programming. By setting up the plan of the building in any graphical format, you can have an eye on the entire system.
The graphical user interface of Movicon allows the management of the system to even non-technical staff members.
Intermod can also be interfaced with other supervision softwarem since the Modbus protocol is a widespread standard. This offers maximum freedom of choice: You can also create such supervision by using Visual Basic.
The Software development department of INTEREL Trading, composed by an innovative team of highly qualified personnel, until today realized hundreds of supervisions and has extensive experience in system integration.
Some clients we have worked with:
OVA

Notifier

Esser

Guardal

Tecnoalarm

Ime

Electrex

Sepam Merlin Gerin

Elcontrol

Tektronix

Magrini

ABB

Visual Tronic

Honeywell

Bentel

'Turondo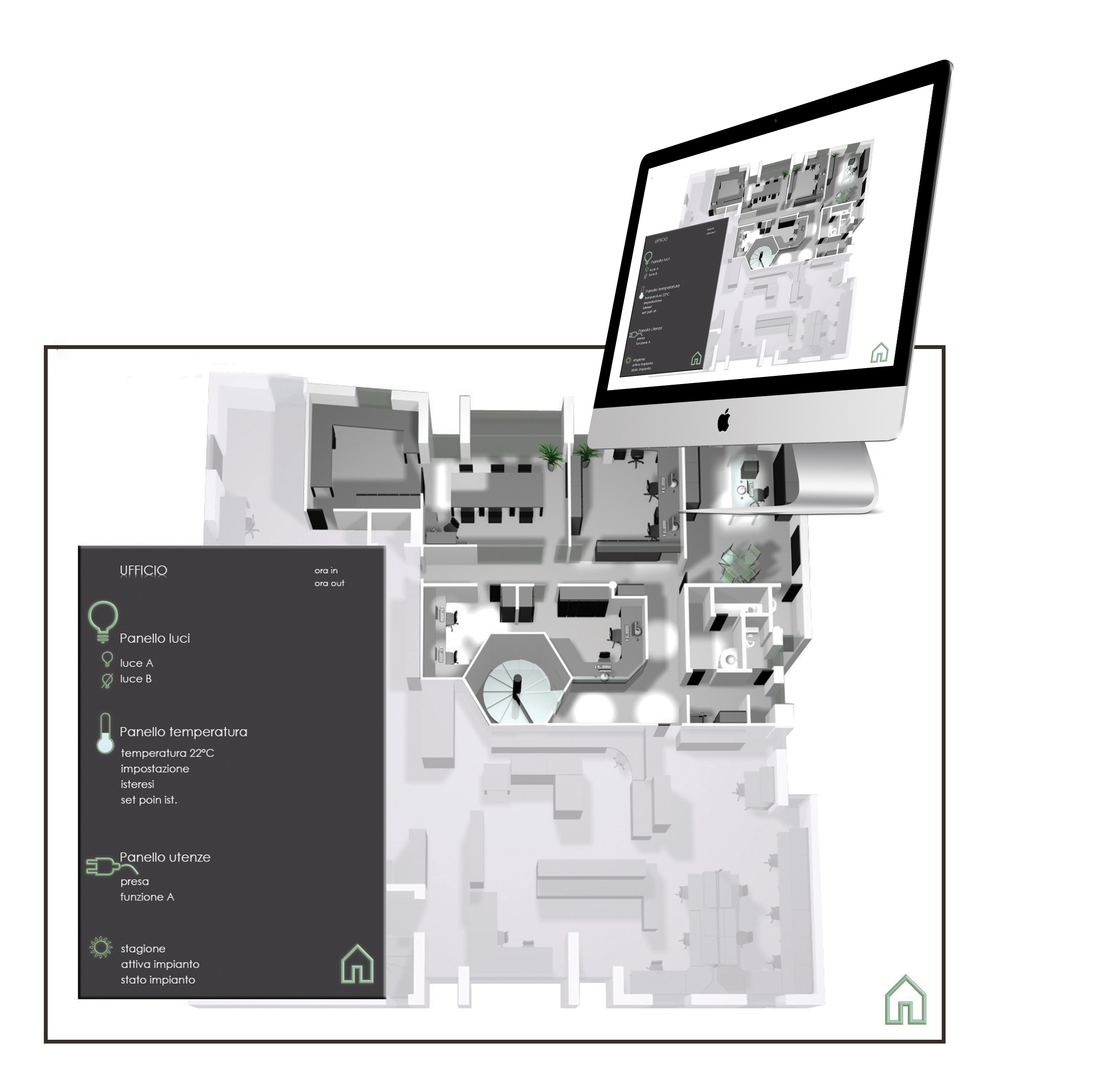 Wall-mounted touch panels from DIVUS represent security, reliability and continuous availability.
DIVUS building touch panels permit to show and control the functions of your smart home, taking in consideration also all security related aspects. The full control of your system must on one side be easily available, but at the same time always secured. Important functions like the control of the alarm system or the entrance door must not be exclusively controlled from your mobile devices, which at any time could fall into the wrong hands.
Therefore our motto is: from your hand it could fall, thus get back into the wall.
Smart phones and tablets can be seen as good extensions for the wall-mounted touch panels. Since the panels have been designed for a long-term permanent operation, can't be forgotten, their usage is even more convenient than using a smart phone, above all if looking at the period of application.
A DIVUS touch panel merges perfectly with your living ambience. By selecting colors and mounting type you define whether the panel should become a true eye-catcher or should keep to the sidelines.
DIVUS TOUCHZONE
The DIVUS TOUCHZONE combines the functions of a smartphone with building security functions.
It is the product innovation for more comfort and security in every smart building!
DIVUS TOUCHZONE is a:
glass multiTouchpanel for an intuitive handling in residential and commercial buildings

button for controlling temperature, lighting, shading and more.

home audio control panel

elegant interior intercom station

control panel for energy and security management of the building

artwork for the wall – Made in Italy

call system for office, surgery, conference room
DIVUS TOUCHZONE can be designed individually, where all your ideas and visions can be implemented with Android.
All system integrators and building users want a solution that allows free and individual scaling and definition of control elements on a touch screen.
Thanks to our multi-touch display, labels, texts, and icons can be displayed in a size that enables even children and the elderly to read and understand the display and use it in a sure-footed manner.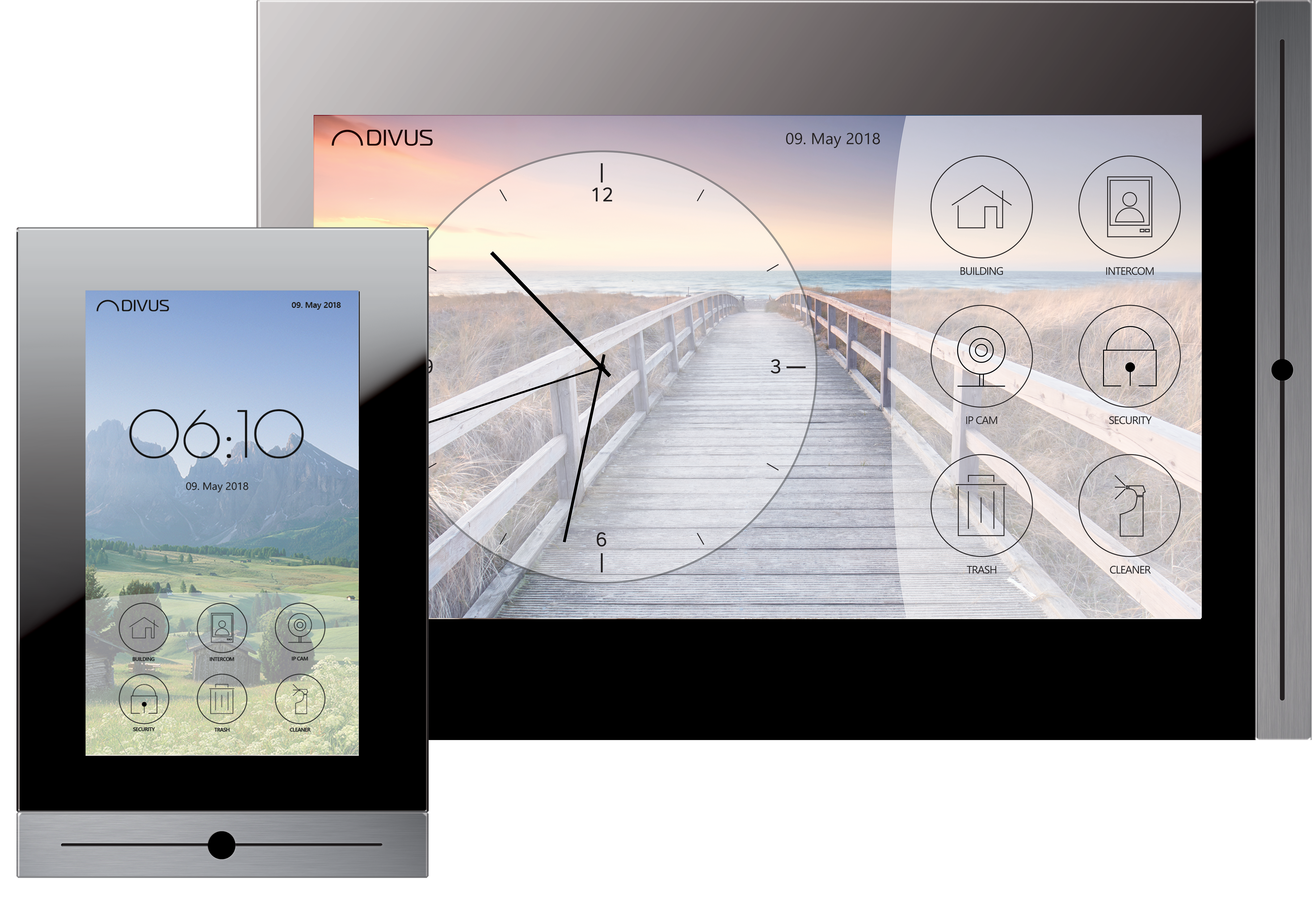 DIVUS SUPERIO
DIVUS SUPERIO is the individual information center for the whole family. Getting the newest information every day, everywhere and at any time crystallizes into an important part of our lives. Therefore, we have combined the best design and technology – in DIVUS SUPERIO.
Now we present the magnification of the DIVUS SUPERIO family. DIVUS SUPERIO provides the elegant touchpanel with capacitive glass touch screen. The Touchpanels in 16:9 format are available with the display sizes of 10", 15" and 19". The system integrator has, with these screen sizes and mounting options, lots of new exciting ways to implement building visualisations.
Let yourself be enchanted by this fusion of design and technology!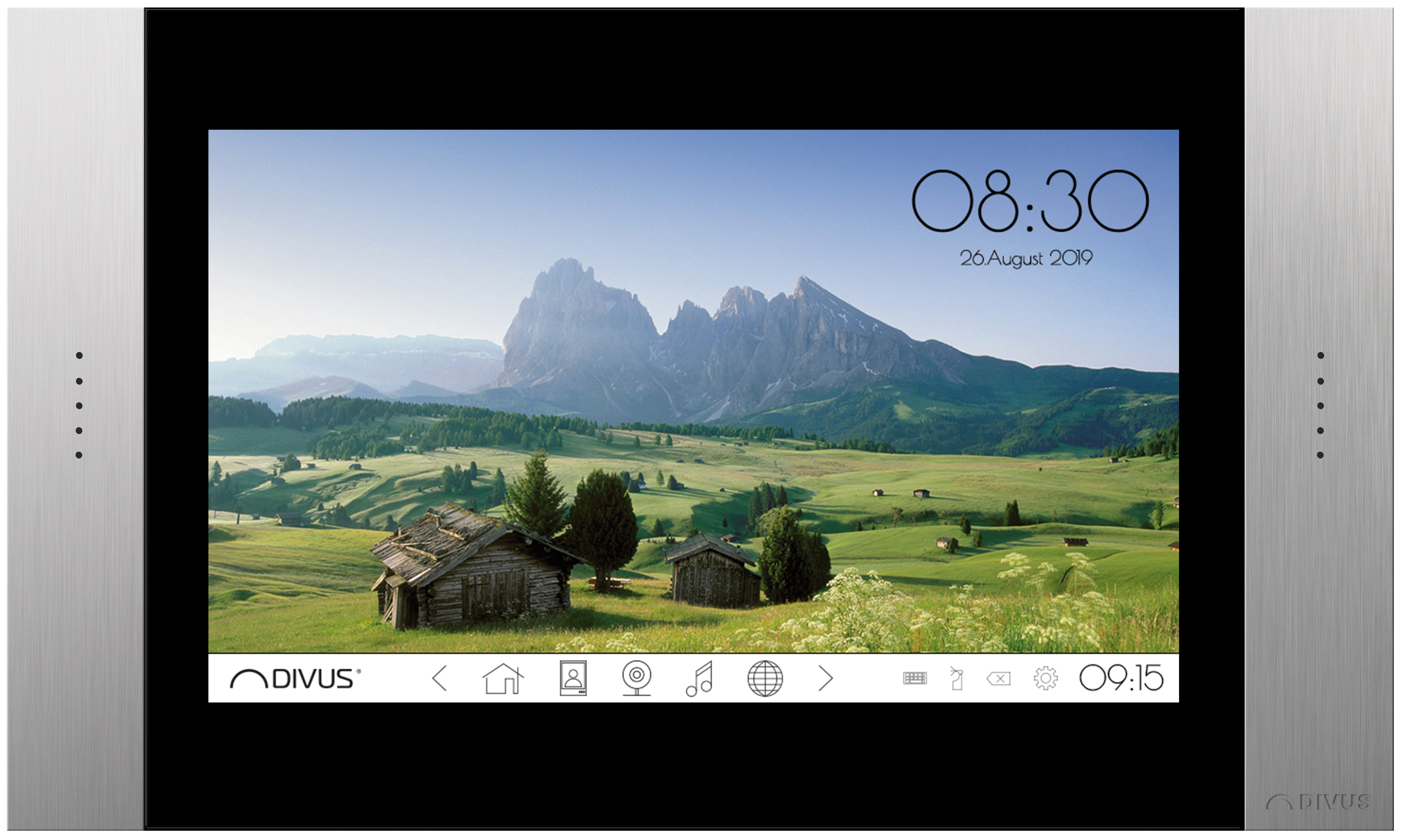 DIVUS DOMUS
DIVUS DOMUS fits perfectly with every interior design. According to the wishes of the planners or builders, DIVUS DOMUS can be either invisible but it can also become a significant component in the interior design.
And because the design frames not only look good but can also be replaced with only one "click", everyone can choose his/her frame according to the actual mood or according to the wallpaper. DIVUS DOMUS is available in 15 differents colors.
The true talents of the DIVUS DOMUS, appreciated particularly by the experts. The open system architecture with the pre-installed operating system Windows® Embedded lets the heart of each expert beat faster. Own and foreign software can easily be integrated and updated.
DIVUS HOME
… Smart living!
Mit dem DIVUS HOME lassen sich ganze Gebäude und einzelne Bereiche zu einem sehr interessanten Preis steuern, regeln, bedienen, überwachen, unterhalten, informieren und, und, und.
Dabei muss der Panel trotz seines vorteilhaften Preises aber nicht versteckt oder in Technikräume verbannt werden, sondern sitzt genau dort, wo er auch bedient werden soll.
Bestimmt kann DIVUS HOME eines Tages mehr, als wir momentan für möglich halten. Denn die Grenzen stecken die Techniker ab, die ihn mit Leben füllen. Und das auch noch in vielen Jahren: durch sein offenes System ist er so zukunftssicher, wie man es sich nur vorstellen kann.